In partnership with Capital City College Group, the largest further education provider in London, and the third largest in the UK, 01F provides a professional and dedicated apprenticeship service offering companies the opportunity to recruit the next generation of diverse coding talent, up-skill their existing workforce and maximise the apprenticeship levy to its full potential and capability through our Software Developer Level 4 Apprenticeship Programme. Our commitment to nurturing apprenticeships aligns with our mission to support your organization's growth.

Download our employer brochure to learn why the 01F apprenticeships is so unique and how you can recruit from our talent pool​
Software Developer Level 4 Apprenticeship Programme
Software Developer Apprenticeships are ideal for companies that need people with the ability to analyse requirements, design solutions, develop software and test it.
They cover job roles such as Junior Developer, Assistant Programmer, Application Developer, Web Developer and Games Developer. They are suitable for companies that develop software across a range of industry sectors.
There is a shortage of people in the UK to fill many of the current and near future software job vacancies.
Our Apprenticeships are an ideal way for your companies to grow your own talent alongside your existing team. Our training provides your apprentices with quality, structured training to enable them to progress and become an asset to your companies
01F Software Developer Apprenticeship are at a Level 4 which are suitable either for new hires or to develop existing staff.
Our training is suitable for a broad range of industry sectors.
Our apprenticeships are structured training programmes allowing the apprentice to work full-time and undertake a real job. This increases the value of your business and enables the apprentice to work alongside experienced staff to learn job-specific skills
The programme is designed to offer the apprentice essential knowledge and behaviour whilst working towards nationally recognised skills. 
The apprenticeship will be built around individual business requirements and tailored to your specialism i.e. Cyber Security, AI, Web development etc, and the training costs are funded through the Apprenticeship Levy. There is no recruitment charge to you.
This apprenticeship is between 12 – 18 months depending on specialism chosen and the apprentice prior learning.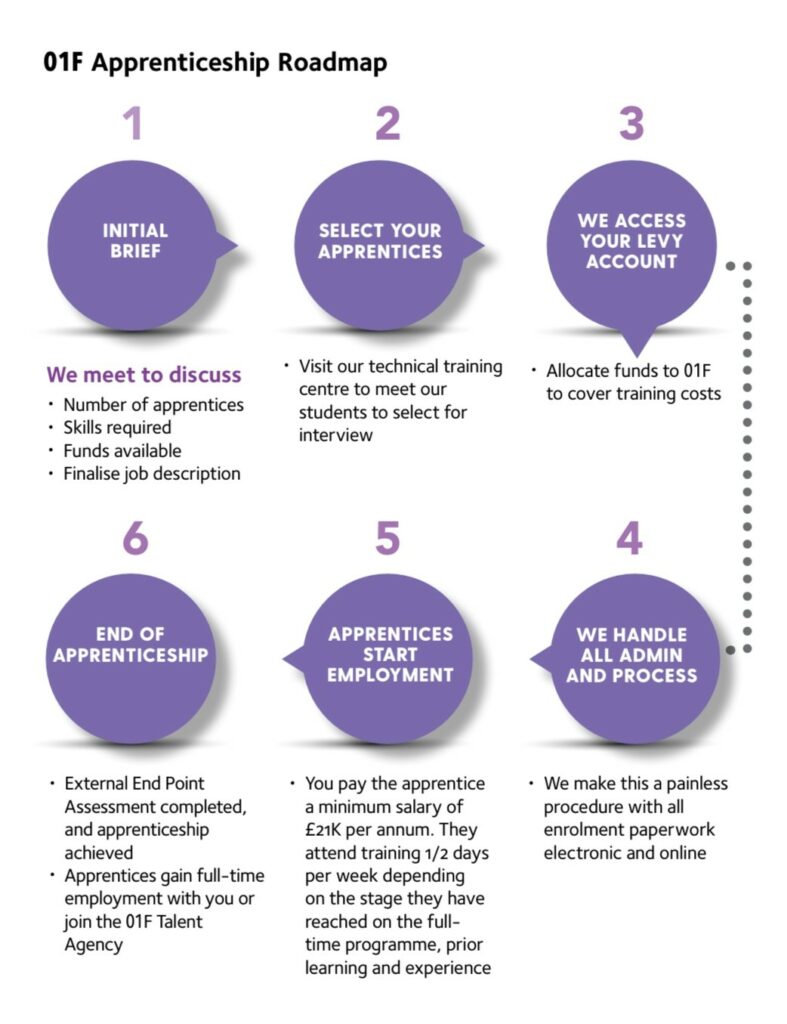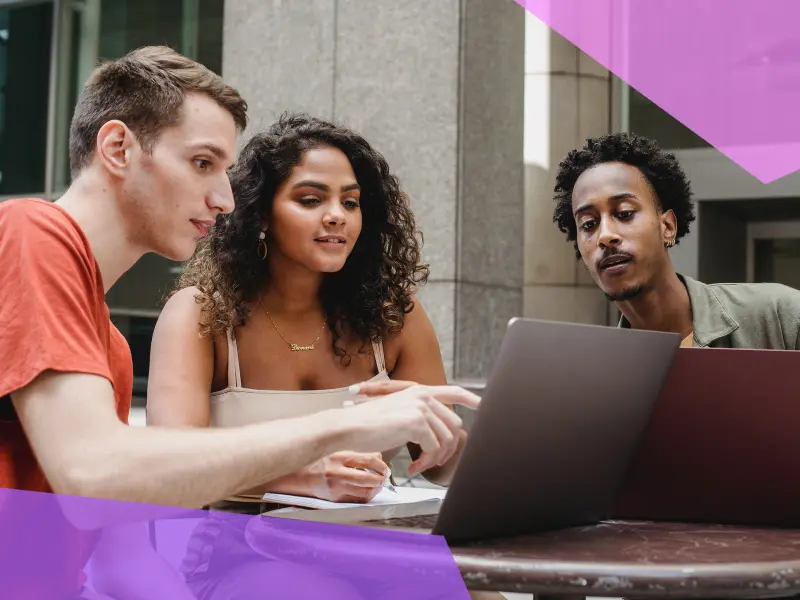 Employers will recruit from our talent pool of candidates. 75% of our students are from ethnically diverse backgrounds, 35% are women and all have chosen apprenticeships as their next career step
All potential apprentices have been hand-picked and will go through a robust selection pool process before gaining entry to our coding academy where they will have exposure to a 9–12-month unique peer-to-peer pedagogy coding school covering 4 key areas before starting their software developer apprenticeship with a company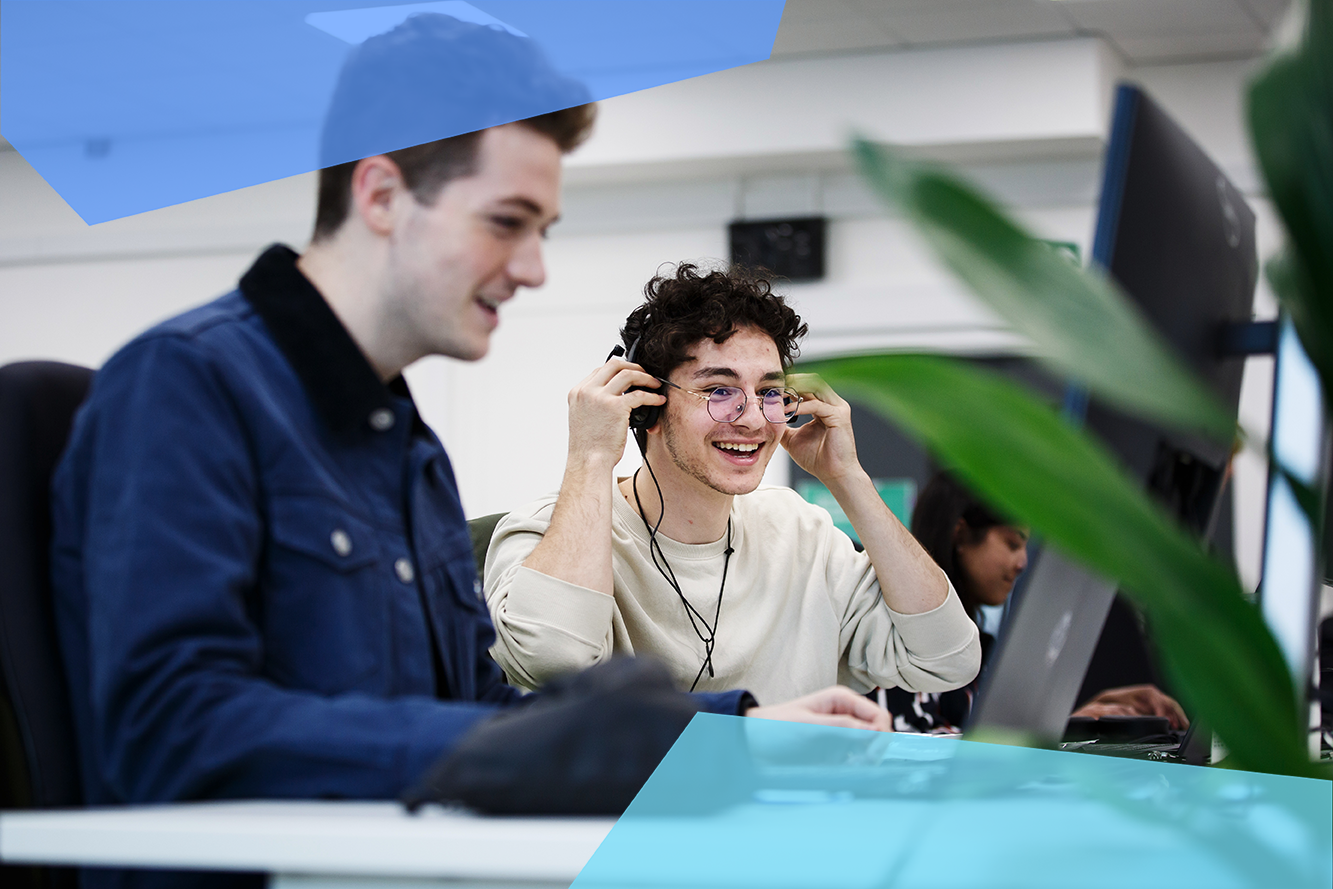 Backend and frontend development, problem-solving + algorithm design, functional programming, parallel computing, technology integration, TCP/IP, statistics, network and systems administration
Data and databases, AI, game development, AR, Mobile development, DevOps and Cybersecurity, Blockchain
Golang, Javascript & Rust Html, JS, SQL, GraphQL, Docker, Css, Rust, Unix, C, Shell, PHP, Python, Ruby, Java, C#, C++, Ruby on rails, Laravel, Django, React, .Net, Electron
4
Skills for today's digital world
The ability to collaborate with people different from themselves, progress using almost zero resources, become autonomous when facing a not-seen-before challenge, and learn and pick up new concepts quickly 
Meet your workforce of tomorrow
We want to provide you with the opportunity to meet the candidates in person and select your apprentices. 
Our technical training centre is in the heart of London and our students are in daily
Subscribe to our newsletter
Get your monthly updates on 01Founders courses and other opportunities